---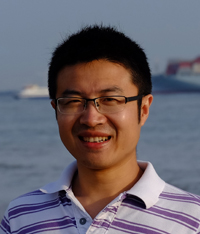 谢微
学历:研究生(博士)

毕业院校:武汉大学

职称:特聘研究员

管理职务:应用化学与工程研究所副所长

学科专业:物理化学

系所单位:应用化学与工程研究所

特殊人才称号:南开大学百名青年学科带头人

通讯地址:南开大学天南联合楼A801-2

电话:022-83662851

电子邮件:wei.xie@nankai.edu.cn
课题组网站
Research Group's Website
http://xie-lab.uni-nankai.cn
1. Surface-enhanced Raman spectroscopy;
2. Plasmonic nanoparticles: design and applications;
3. Label-free monitoring of chemistry at the catalytic interfaces;
4. Light-to-energy conversion and energy storage.
教育与科研经历
Education and Scientific Research Experience
2016至今 特聘研究员 南开大学化学学院
2013-2016 项目负责人(PI) 德国杜伊斯堡-埃森大学化学系
2010-2012 洪堡学者德国奥斯纳布吕克大学物理系
2003-2009 博士武汉大学化学与分子科学学院
1999-2003 学士武汉大学化学与分子科学学院
2010 洪堡学者
2015 欧洲化学出版会(ChemPubSoc Europe)和Wiley出版社(Wiley-VCH)Outstanding Reviewer Award
科研成果
Achievements in Scientific Research
代表论文
Representative Publication
1. E. Cotes#, W. Xie#, J. Cambiasso, A. S. Jermyn, R. Sundararaman, P. Narang, S. Schluecker, S. A. Maier, Plasmonic hot electron transport drives nano-localized chemistry, Nature Comm. 2017 DOI: 10.1038/ncomms14880.
2. W. Xie*, R. Grzeschik, S. Schlücker*, Metal Nanoparticle-Catalyzed Reduction Using Borohydride in Aqueous Media: A Kinetic Analysis of the Surface Reaction by Microfluidic SERS, Angew. Chem. Int. Ed. 2016, 55, 13729-13733.
3. W. Xie, S. Schlücker*, Hot electron-induced reduction of small molecules on photorecycling metal surfaces, Nature Comm. 2015, 6, 7570.
4. W. Xie, S. Schlücker*, Rationally Designed Multifunctional Plasmonic Nanoparticles for Surface-Enhanced Raman Spectroscopy, Rep. Prog. Phys. 2014, 77, 116502.
5. W. Xie, B. Walkenfort, S. Schlücker*, Label-Free SERS Monitoring of Chemical Reactions Catalyzed by Small Gold Nanoparticles Using 3D Plasmonic Superstructures, J. Am. Chem. Soc. 2013, 135, 1657-1660.
6. W. Xie, C. Herrmann, K. Koempe, M. Haase, S. Schlücker*, Synthesis of Bifunctional Au/Pt/Au Core/Shell Nanoraspberries for in Situ SERS Monitoring of Platinum-Catalyzed Reactions, J. Am. Chem. Soc. 2011, 133, 19302-19305.
7. Y. Y. Zhang, B. Walkenfort, J. H. Yoon, S. Schlücker and W. Xie*, Gold and Silver Nanoparticle Monomers are Non-SERS-Active: a Negative Experimental Study with Silica-Encapsulated Raman-Reporter-Coated Metal Colloids, Phys. Chem. Chem. Phys. 2015, 17, 21120-21126.
8. M. Koenig, A. Radojcic, S. Schlücker and W. Xie*, Label-free SERS monitoring of hydride reduction catalyzed by Au nanostars, J. Raman Spectrosc. 2016, 47, 1024-1028.
9. W. Xie, S. Schlücker*, Medical Applications of Surface-Enhanced Raman Scattering, Phys. Chem. Chem. Phys. 2013, 15, 5329-5344.
10. W. Xie, L. Su, P. Donfack, A. G. Shen, X. D. Zhou, A. Materny, J. M. Hu*, Synthesis of Gold Nanopeanuts by Citrate Reduction of Gold Chloride on Gold–Silver Core–Shell Nanoparticles, Chem. Commun. 2009, 5263-5265.
每年招收1名博士后,2名博士研究生,3名硕士研究生。
本课题组将积极支持优秀研究生出国交流学习,并参加国内外学术会议,毕业后尽力推荐去国外一流课题组。
热忱欢迎来自分析科学、光学、纳米材料、催化等领域的博士后、博士生、硕士生和本科生加入我们的研究队伍。
---